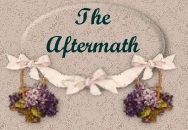 Two years after Jim died, I met John at work. He had just graduated from college with a bachelor's degree in History - and was working and saving up money for law school the following year. He was a nice person and had a good sense of humor - and better yet in my frame of mind, he was never in Vietnam - nor the service for that matter. I started acting more alive and I shoved my departed loved ones out of my life. I never displayed any family photographs and I would be amazed when I walked into other people's homes and see all those photographs of their families. No, mine was shut away in some dark closet, never to come out. Looking back on it, my mother had all kinds of family photographs displayed in our home - so I now know it is a product of grief to not display photographs. I dated John three years before we married. I still had a grueling schedule - working a lot of hours and always seeming to take some kind of classes.
John eventually decided that law was not for him and he became a history teacher - a darn good one too I might add. He has been given awards and his former students love both him and his classes. My life was uneventful for 18 years - just a round of working, vacations, parties with friends - the usual things of life. I was aware with more and more passage of time of how "hollow" I felt inside - as if I was not real, but for several years, I worked 60+ hours so I didn't really have the time to think about these things - I was busy living life. And to tell you the truth, I wasn't unhappy - that numbness was there all right - but I wasn't unhappy. But I can honestly tell you that I wasn't happy either - it was like I was incapable of any kind of emotion at all.

Do I understand this? Not in the least. I don't have a rational understanding of how a person can block the pain - I only know that it can be done - I have lived it. I did suffer from bouts of periodic depression - that would happen around the same time of the year - for me, it was from November to February that I would be depressed. I started to tell myself that it must be seasonal depression, but I know the truth now. November 15th was the day of my mother's passing, December 5th was the date my father died, December 23rd was my grandmother's passing, and January 4th was Jim's anniversary. Jim's birthday was February 1st. Not once in those 20 some years did I ever make the connection with my depression and their deaths.
About 20 years after Jim's death, I went to a counselor for grief. It was a truly good experience - and I was able to "process" the deaths of my mother and grandparents, father and cousin. I never mentioned Jim at all - never! When my counselor wanted to know the relationship of the one person whose death we had not discussed, she did express surprise at my declaration that it happened a long time ago and it no

longer affected me! My counselor, Joann and I became friends and she has helped me enormously. About two years after that counseling experience was when I found Jim's letters. Rather than going into the details of how I found his letters, there is a link to that story of how I experienced after-death communications (ADCs with Jim). Also in my Essay on Grief, I go into the initial reactions of my delayed grief coming to the surface, for here is where I deal with the aftermath of that grief.
When I found Jim's letters 23 years after his death, I was devastated - I cannot believe how truly devastated I was. One minute I was fine; the next I was completely and literally knocked off my feet and whimpering, curled up in the garage. I could barely get up and walk into the house - the tears were pouring out of me. I did manage to do one final acting - and that was by the time John came home that day, I was completely composed and he did not suspect that anything was wrong with me. That was the last time that I have ever been able to completely disassociate myself from my feelings.
The next morning, I called Joann (my counselor) who had been so helpful two years previously - I could scarcely speak into the phone due to the pain and guilt. I sounded like a wounded animal - and I have marveled that she knew it was me - nothing made sense.
A couple of days later, I saw Joann and that night I prayed for Jim's presence not knowing what that meant or even if it was possible. And that's when I heard Jim's voice with my physical ear - which of course, is in my ADCs with Jim.
After finding Jim's letters, I started becoming super sensitive to stimuli - I couldn't bear to hear loud noises - made me jump - like right out of my skin. Even just a person walking up behind me was enough to make me jump like that. I lived not too far away from Camp Pendleton and the sounds of the choppers going overhead was enough to send me diving under the nearest bed. I started having dreams of Vietnam - of night battles - I have no idea - just started having these dreams. I couldn't bear to watch television at all - no movies, nothing. Everything set me off. I was more than suicidal - if there is such a state - I wished to die with all my heart. I cried out to God in my pain - and admitted that I didn't even know if He existed or not. Other times, I would stretch myself out on the carpet in the sign of a cross - something I had read that Catholic nuns had done. I was willing to do anything to end this nightmare of pain.

In the meantime, I had been persuaded by Jim to write a letter to his grandmother - he wanted her to know the truth. Was it Jim - or was it my brain, overloaded with guilt for 23 years? I can't answer that question for you - only you can. I will tell you this - that left to my own devices, I would never had the courage to write Jim's grandmother - only his insistence that it was so very important made me do it. (My story of contacting Jim's grandmother and how that turned out is in My ADCs with Jim.)
I read and re-read Jim's letters constantly. I wouldn't be surprised if I read each one 1,000 times - I was reading them every day - sometimes the whole collection 2 or 3 times a day. And reading - I was reading a book a night. For some strange reason or coincidence, my business didn't have as much work as it did previous to this. I will be forever grateful for that - it allowed me to work some, but I wasn't pressured and I needed that in order to process this experience.
Friends? Well, it makes friends uncomfortable to see this in a person - and so, one by one, they all slipped away. I don't really blame them and to tell you the truth, I am relieved that they did go. It gave me the time and the opportunity to spend on myself - something that I had neglected to do over the years, so I am grateful for that.
And what about my marriage? I will be honest about all of this - for I have had several people ask me what happened to my marriage. My marriage suffered horribly during a 2-1/2 year period - and actually for another full year after that. Was it because I experienced ADCs with Jim, or suffered the delayed grief. No, my marriage was in trouble for a very long time - because both John and I were emotionally numb for various reasons.
John's mother had been extremely abusive and cruel - and he never went to counseling for it. Because of this, there was a distance in our marriage and I totally do not blame him for this - for I too had barriers up for my own purposes. When my delayed grief spilled out, it only magnified the issues and problems that John and I already had - not necessarily creating them.
Over the years and without me being conscious of it, John had slipped into alcoholism. Now with my crisis looming large, it was the perfect time for John to blame me for this crisis in our marriage. Little did he know that God was making me do a life review - reviewing day by day, point by point, photograph by photograph. It's amazing what I learned from body language in photographs during that crisis. And I came to see many truths about myself, my life, my marriage. And a lot of it made me sick and ashamed of what I had become.
I prayed to God and admitted to Him that I didn't know if He existed, or if He did, who He was. I admitted that I knew nothing and I asked Him to educate me. I would do anything to find out if He truly existed! And much to my surprise and

shock, I got answers - real answers for me. And now I understand the "secret" of being granted spiritual knowledge from God - simply go down on your knees, admit that you don't know, and ask to be instructed. God will do that - Seek and ye shall find! It is so absolutely true and it seems so simple that we don't do it.
After 2-1/2 years, I could bear no more pain and was very near committing suicide - actually a half-hearted attempt was made. After realizing that it was not the way, I finally surrendered to God - totally and completely. It was then that I started to love God first - to put Him first. During these first 2-1/2 years, I quite readily admit that I loved Jim more than God.
With each passing day, I noticed that I was becoming stronger and stronger. At one point, I told John I would leave as soon as I was able to - unless he went to Alcoholics Anonymous and I told them that they were the only ones that could help and understand him. Eventually John did go - perhaps out of a fear of seeing me getting stronger. I wish I could say that improvement was immediate - but it was not. Just like for my spiritual recovery - it took some time. I asked God what to do - and it was indicated to me through meditation that I must give John two years before I would make any decision to leave.
John was approximately in Recovery for 1-1/2 years before I started seeing real changes in him. And the changes that are still occurring - it is nothing short of a miracle - a miracle of spiritual healing! And of course, at the end of 1-1/2 years, I asked John whether he wanted to remain married to me or not - and he said yes. It was my desire to remain married, if it was possible.
Initially six years ago, Jim was very adamant that I know that he hadn't "come back" to wreck my marriage - that was not his intention. He told me several times that what he wanted was to shake John's hand and thank him for taking care of me. A while back, during meditation, I was given a vision - of John and his soul mate in the Afterlife getting married. As Jim and I

watched them take their marriage vows - after which John turned to the people and said to me a whispered "thank you." It confirmed what my heart knew already - that Jim and I are truly soul mates - and John will not be hurt by this - for he has his own soul mate waiting for him as well. John and I will celebrate our 25th wedding anniversary in December, 1999. I give thanks to God!
In August, 1998, I went on the Net to research a book for a friend of a friend. She had experienced ADCs - telephone calls in which she distinctly and clearly heard her brother's voice talking to her - although her brother had died some 12 years previously. My friend knew about my experiences and was asking for sources to help her friend. I mentioned the book, Hello from Heaven, by Bill and Judy Guggenheim, and went onto the Net to research. I had only frequented the Net for business purposes - and this was my first time onto the After-Death Communications Message Board. I knew immediately that I might be of help to some, since I had undergone so much myself - and knew so much of Swedenborg's writings (I have read 20 of 35 volumes now).
And much to my surprise, I have met many people online - it is an incredible community of grievers out there - and so many of them are supportive of one another.
Barb has helped me so much. She didn't judge me when I told her the truth about how Jim viewed my request for postponing our marriage. She has been nothing less than supportive. And she too has been like a spiritual sister - and it is such a nice feeling to know that I wasn't alone in my experiences of afterdeath communications with Jim. She too has experienced similar things with Johnny. For the past six years, I have often wondered if I was the only one out there - and logic told me that I could not be - there must be others - at least one! And I no longer feel like a freak for my experience - I see that they are happening to more people than ever! Six years ago, there was no book "Hello from Heaven" - and I do thank God for giving the authors the inspiration and determination to write that book so that future ones will not suffer as much as earlier ones did.
It is my fervent hope that by sharing my story with you
that someone, somehow will be helped.
Music: By Heart
by Jim Brickman and Hollye Levin
Original Performance by Bryan